January 20, 2022
You Can Make a Difference with Every Purchase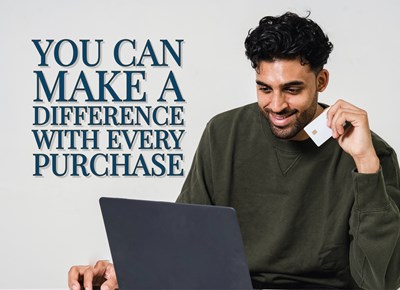 You ever notice how very few things cost an even $1, $5 or $10? Almost every bill requires some kind of change, whether it's $1.77 or $10.29. If you're like us, you're regularly wondering why your debit card balance is never quite what you think it should be or you forget you shoved three quarters into the pocket of your jeans until they start making a racket in the dryer.
That change can now be "rounded-up" -- making giving part of your everyday routine -- and making real transformation. When you decide to round up, the change from your day-to-day spending means greater opportunities for fathers and families. So, whether it's your daily caffeine fix, your car's weekly gas tank fill-up or you're treating yourself to something special, you're also doing something even more special. By being a philanthropist every day, you are helping to change a life every day.
You can set a maximum monthly amount you're comfortable with on your password-protected donor dashboard, so you never have to worry that you've donated more than your budget allows. This is the perfect way to jumpstart your giving journey, for as little as $10 a month!
To start go to https://www.scfathersandfamilies.com/#donate or text SCCFF to 26989