June 17, 2020
Working Through COVID-19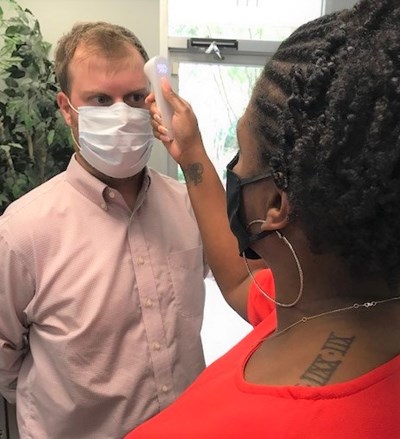 6.17.20 COVID UPDATE. The COVID-19 pandemic continues to reshape our world and the way we go about daily business. The South Carolina Center for Fathers and Families has continued to operate normal business hours while leveraging technology to stay connected to those we serve, our partners, and to each other.
With safety procedures in place, including daily temperature checks upon entering the workplace, the Center staff returned to our offices on May 18th. All local fatherhood organizations have maintained normal business operations with staff working onsite and remotely and have successfully implemented virtual recruitment, enrollment, and peer support sessions.
Peer support sessions are being held virtually through ZOOM and other platforms. Upstate Fatherhood Coalition and A Father's Way (formerly Lancaster Fatherhood Coalition) are choosing a mix of virtual and in-person service delivery for participants.
Social media and texting have become valuable tools in staying connected to participants and communities and providing supportive, educational content for keeping key points of our fatherhood curriculum easily accessible. Community outreach continues, but with a strictly virtual approach until it is safe to resume traditional personal visits and presentations.
The leadership team at the Center and the local fatherhood organizations stay updated on the latest guidance from local and/or federal health officials to ensure safe and sanitary practices at all organizations.
Regardless of COVID's impact, we are committed to maintaining the quality services and support our program participants depend on. We are utilizing these unprecedented times to experiment with service delivery options, enhance technology usage and discover new ways to provide resources and hope for fathers and families in South Carolina.