November 19, 2021
Welcome SCCFF's New Board Members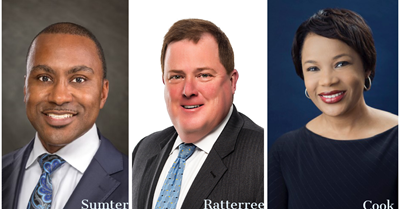 The Center is pleased to announce the appointment of three new members to our Board of Trustees.
Dr. Dezmond Bernard Sumter is double board-certified in Family Medicine and Sleep Medicine. He graduated from Medical University of South Carolina with a medical degree in 2012, completed a Family Medicine residency at USC-Palmetto Health Richland in 2015, and a fellowship in Sleep Medicine at the University of Michigan in 2016. Dr. Sumter is a single father who enjoys helping his daughter explore her environment and learn by doing. His parenting philosophy is "parenting is similar to gardening; we must always nurture and occasionally prune." He also loves to cook, particularly seafood, and often hosts dinner parties for his extended family.

Belinda Cook has more than 20 years of experience with Human Resources, primarily for Fortune 100 companies. She joined Colonial Life & Accident Insurance Company in Columbia in 2019 as the assistant vice president of human resources. Belinda has lived and worked in five US states and two international countries and her career journey has brought her full circle to the state where she grew up. She has an undergraduate degree from the University of South Carolina and completed a master's in human resources development at Clemson University. Belinda is excited to join and serve on the SCCFF Board because she believes that fathers play an integral role in the family structure.

Julian A. Ratterree Jr. (Jay) is a senior banking executive with more than 30 years of experience. He earned a degree from the Graduate School of Banking at Louisiana State University as well as a BS Degree in Finance and Marketing from the University of South Carolina. In 2021 he relocated to his hometown of Columbia and joined United Bank as senior vice president. The father to two young men, Jay emphasizes being involved and open communication with his children. He believes that "investing in people equals infinite returns" and feels the philosophy helped his sons to be successful in life and in their careers. An avid sports fan, Jay coached many of his son's teams and served as the PA announcer for Furman baseball and women's basketball.