July 7, 2021
Thank You for Your Father's Day Appeal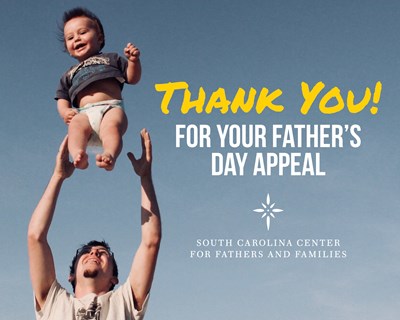 Thank you to everyone who supported our 2021 Father's Day Appeal thus far! We've heard from many friends that our appeal suffered some mail delays, and we are so grateful for all the generous donations still coming in. We are two-thirds of the way to our goal and your support makes all the difference. 
South Carolina Center for Fathers and Families works every day to support the fathers who are striving to become great dads. Fathers in our programs have access to a full curriculum that focuses on building better relationship skills, parenting skills, job training and economic mobility training to support their families. Our knowledgeable staff walks alongside each man as he pursues his goals and creates new opportunities for himself. It costs $2,500 per participant to deliver our full curriculum of programs, but all of our services are provided free of charge because of generous support from people like you. 
If you haven't yet had a chance to make a donation, we would be so honored to receive it. Donate today, knowing that your gift will transform the life of a child!