August 5, 2022
Statewide Engagement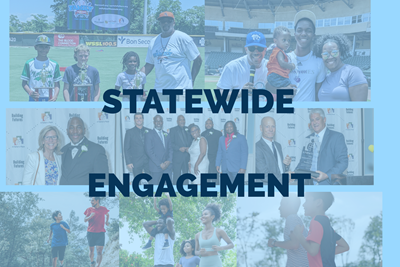 Upstate Fatherhood Coalition
The Upstate Fatherhood Coalition hosted a Field of Dreams Family Fun Day on June 18th. 
Coming Up: UFC is hosting a Golf Tournament on September 23rd. 
A Father's Place
A Father's Place netted more than $26,000 from its recent 4th Annual Building Futures Awards Banquet & FUNdraiser at the Pine Lakes Country Club in Myrtle Beach. The event, with 17 sponsors and more than 200 guests, feted 10 local changemakers and three extraordinary fathers, was moved from the Fall to June 9 to be in Fathers' Month. 
Midlands Fatherhood Coalition
Midlands Fatherhood Coalition hosted The Daddy and Me 5K, held on June 18th at Saluda Shoals Park, raising $18,775 to support programs and services for fathers in their service area. We are grateful for our sponsors, runners and everyone who supported MFC in their 4th annual event!