March 29, 2022
Father's Day Appeal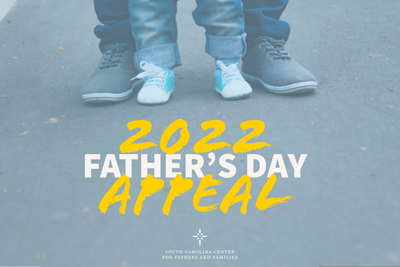 20 years of impactful work
SCCFF launches appeal to make families, communities safer
Declares June is now Fathers' Month in South Carolina!
Join the South Carolina Center for Fathers and Families (SCCFF) as we spend all of June celebrating fathers who make families – and our entire state – safer, economically stronger and more vibrant. Specifically:
Children who grow up with a positive relationship with their father are 43% more likely to earn A's in school and 33% less likely to repeat a grade than those without engaged dads.
In early childhood, engaged fathers influence development of self-esteem, risk-taking and cognitive functioning. Adolescents and teens are likely to stay in school, go to college and excel in career and economic achievements.
Boys and girls who grow up with an involved father, as well as an involved mother, enjoy elevated levels of physical and mental health, become better problem-solvers, and are more confident and empathetic. They also show greater moral sensitivity and self-control.
According to the U.S. Census Bureau, children from absent-father homes are 3x more likely to be living in poverty.
Fathers play a vital role in creating significantly safer neighborhoods. Crime rates - from violent crimes to criminal mischief - are markedly lower in communities with engaged dads than those with high father absence. Dads play an important role not only in socializing their daughters and sons, but also in making sure that the young people in the community behave themselves.
"Father absence is the undercurrent of so many challenges facing our communities and sweeping the country.," said Pat Littlejohn, President of SCCFF. "Fathers have the potential to be a huge part of the solution to everything from gang violence and teen suicide to mental health and financial, emotional and spiritual poverty. But we have to first admit that fathers make a difference and find ways to support them."
Since SCCFF opened its doors in 2002, more than 25,000 fathers and 56,000 children have been helped by SCCFF, our six regional fatherhood organizations and partners throughout the state.
"While we are proud of what we have been able to accomplish because of our amazing supporters, we are even more humbled knowing there are so many more families who desperately need our programs and services," Littlejohn said. "Among the many things we've learned these last 20 years is how generous our fellow South Carolinians are in their support, especially when they see the positive difference they have made. Every dime raised during our Fathers' Month Appeal will help another child, another father, another family and another neighborhood have a brighter future. We know people will give as generously as they can, and it would thrill us if there's a '20' includes, whether it's $20, $520, $1,020 or $20,000.20 in honor of our 20th anniversary. We are grateful for every single gift because it allows us to help someone, somewhere in our great state."
Gifts are gratefully accepted:
online at scfathersandfamilies.com
by texting SCCFF to 26989
via U.S. mail by sending a check made payable to "SCCFF" to 2711 Middleburg Drive, Suite 11, Columbia, SC