July 14, 2023
SC Center for Fathers and Families Meets with SCDSS to Discuss Collaboration on Fatherhood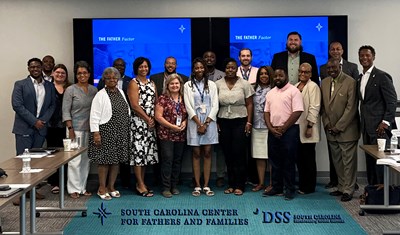 On July 14, 2023, the South Carolina Center for Fathers and Families met with SC Department of Social Services at an event in Columbia to discuss fatherhood issues and how the two agencies can collaborate to assist dads throughout the state. Meeting space was graciously provided by the Central Carolina Community Foundation, located near Segra Park.
James Swick, Assistant Director, Division of Policy and Training within the Child Support Services Division, brought many DSS staff who work within the areas of Child Support, Child Welfare, Child Care and Education, and SNAP/TANF, to connect with Center staff and leaders from local fatherhood organizations and share updates on how DSS is providing resources and advocacy for fathers in the state.
Karriem Edwards, President of the Center, stated that "this level of collaboration for our fathers will uplift them relationally and economically, and give them hope as they learn to become great dads through our fatherhood programs and the awesome resources available through DSS. We hope that we'll see many "closed" cases in the coming months as our two agencies unite to give dads everything they need to succeed."
Three more collaboration meetings with DSS are scheduled for later this summer around the state.
The mission of the South Carolina Center for Fathers and Families is simple: To provide the means for fathers to become great dads. We bring attention to problems, policy challenges, and best practices, then tackle issues that unintentionally keep fathers and children apart. Our work is motivated by families and shaped by evidence. To learn more about our work, please visit our website at scfathersandfamilies.com