July 7, 2021
Ready for Life: Spartanburg Football Team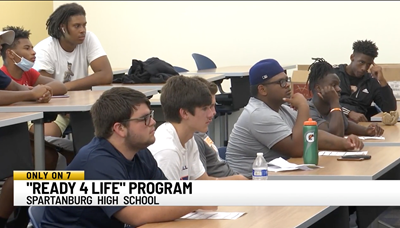 The Upstate Fatherhood Coalition got news coverage at Spartanburg High School as they presented the "Ready4Life" (R4L)  program to high school seniors. 
"Budgeting, money management, healthy relationships, and responsible parenthood," Matthew Melvin (Program Manager) for Center said. "We're doing this program to give them a reality check about life."
R4L is an interactive life skills program designated to prepare high school males for a successful transition into adulthood. Using our Reality Check curriculum as the core component, participants engage in facilitated group discussions, cultural activities, and experiences that help illustrate how responsible choices can lead to positive outcomes. The intensive program can be used as part of a course elective, an after-school program, a summer enrichment series, or a supplemental program for athletes, student organizations, and clubs.
Get the full news coverage from WSPA 7.