October 21, 2021
Our Community Thrives!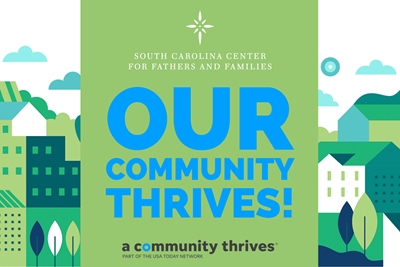 The South Carolina Center for Fathers and Families (SCCFF) was announced a grant recipient of A Community Thrives, a grantmaking and crowd-funding program from the USA TODAY NETWORK and a part of the Gannett Foundation, today. SCCFF will receive $25,000 for expanding marketing efforts to promote its program called "Reality Check," a course for young men ages 16-21.
"It is truly an honor to have been selected as a Gannett Grant recipient," said Pat Littlejohn," President of SCCFF. "This grant will allow us to shine a light on young men and help to prepare them to be the responsible fathers of tomorrow through our Reality Check curriculum. This curriculum teaches them that there are financial, legal, and emotional commitments to fatherhood that perhaps they have never considered or been taught. With this grant, we can help young men across our state truly understand and appreciate the valuable role that they one day will play in their children's lives."
Thanks to your contribution to Community Thrive SCCFF exceeded its fundraising goal of $15,000! Not only did we qualify to submit a grant thanks to your help, but you also made a difference for fathers and families in South Carolina.