April 21, 2022
New Little Free Library in Martin Luther King Park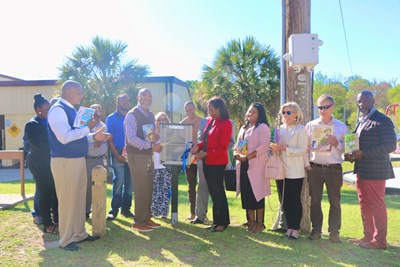 On April 8, 2022, The SC Center for Fathers and Families (SCCFF) held a dedication of a Little Free Library at Martin Luther King Jr. Park. This is the second Little Library sponsored by SCCFF and in partnership with the City of Columbia and the Columbia Parks and Recreation Department.
Ed McDowell, Jr., Columbia City Councilman for District 2, and Chakisse Newton, Richland County Councilwoman for District 11, cut the ribbon, officially opening the Little Free Library to the public. This project aims to promote father-child engagement by providing the resources for fathers and children to read together. According to researchers, children who have an involved father in their lives are better prepared and more interested in learning. The father-child bond can be a catalyst for successful adulthood. 
"When I was about to become a father, I remember reading to my sons even before they were out of their mother's womb," Warren Bolton, SCCFF Board Chairman explained. "When fathers read to their children, they send a message that reading is important, that education is important, but most of all they send a message that they are important." The Little Free Library also honors SCCFF's 20th anniversary of providing fathers with the means to be great dads. Through the last 20 years, SCCFF has become the voice for fathers across the state and a national fatherhood initiative model. More than 25,000 South Carolina fathers and 56,000 children have been positively impacted.