March 29, 2022
Midlands Gives: Improving our Community by Impacting Male Youth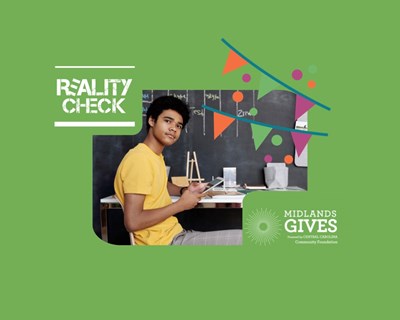 After two decades of serving fathers, the nationally renowned South Carolina Center for Fathers and Families (SCCFF) is expanding necessary new programs for young males as it celebrates its 20th anniversary.
SCCFF plans to use funds raised during the annual "Midlands Gives Day" on May 3 to roll out its Reality Check program more widely. Developed by SCCFF in 2020 and lauded at pilot locations in 2021, Reality Check is designed to open young male eyes and minds about how the actions and decisions they make in their youth can either help or hurt their transition into adulthood.  Designed for male youth aged 16-22, the 13.5 hours of specially developed curriculum is highly interactive and relevant to the challenges, choices and temptations today's young people face. 
Reality Check combines emotional support and growth with critical thinking skills and real-life education. From helping male youth process the psychic pain caused by an absentee father to learning how to apply to college, Reality Check is all about readying them for success throughout life. 
Pat Littlejohn, SCCFF's President, said the addition of this program doesn't detract from its laser focus on serving fathers, but is a natural progression to move up stream.
"Since 2002, we have been committed not just to helping today, but to building a legacy of strong fathers," Littlejohn explained. "These young men are all likely to be fathers someday; certainly, they all have the potential to be fathers. Reality Check is about putting them on the path of good decision-making and life-staging that will make that 'someday' better for them and for any future children. We are here to build strong fathers, whether fatherhood is happening now or further down the road when the time is right."
Because children without engaged fathers are twice as likely to drop out of school, funds are also being raised to promote father engagement in a child's education starting with reading. It's an easy and fun quality time activity with long term impact. As part of its anniversary celebration, SCCFF has taken – literally –resources to support fathers to the streets with the installation of a Little Free Library at Pinehurst Park on March 2 and at Martin Luther King Jr. Park on Friday, April 8 at 9:30am.
"The more books in or near the home, the more likely a child will learn and love to read," Littlejohn said. "But what will make the books special is when they are read together. It creates such a strong bond between father and child, great memories and lifelong love of reading and learning."
Midlands Gives is an 18-hour online giving challenge hosted by the Central Carolina Community Foundation for nonprofits in 11 South Carolina counties. SCCFF hopes to raise at least $10,000 for its young male programming and fathers reading to their children. Supporters are encouraged to give in honor or memory of a great father or role model.
To donate on Midlands Gives Day, May 3rd, you can visit https://www.midlandsgives.org/scfathersandfamilies. Donations may be made ahead of time but earmarked for the campaign by texting SCCFF to 26989, mailing a check to 2711 Middleburg Drive, Suite 111, Columbia SC 29204 or visiting our website at www.scfathersandfamilies.com/donate.