May 19, 2022
Midlands Gives: Goal Met!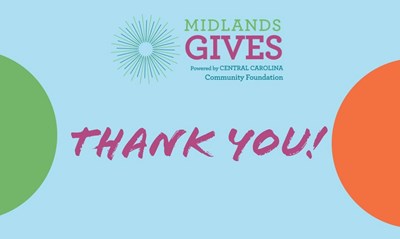 Community, board and staff members came together May 3rd to help us not only meet, but significantly exceed, our $10,000 Midlands Gives goal! With a $1,000 kick-off gift from long-time fatherhood champion, John Boudreaux, more than $10,000 was raised in just 18 hours to help us fund summer sessions of our Reality Check program for young men ages 16-22 and father-child literacy efforts. 

In addition to the generous donations we received from so many kind and caring individuals, which totaled $10,824, we were honored to receive two special gift designations. Special thanks to Richland County Council District 11 Representative Chakisse Newton for recommending SCCFF for a $500 Elected Official Challenge award from Nephron, and Dominion Energy for its $1000 Champion Page Powerhouse Prize. A special shoutout to Dezmond Sumter for going above and beyond to become the top fundraising Board Member and to Marcia Wynn, our lead staff Midlands Gives fundraiser.
 
"This is proof positive that when our community, board and staff work side by side, magic happens," said SCCFF President Pat Littlejohn. "These funds help to expand two critical programs. Today's male youth really need the guidance and foundation Reality Check provides to help them transition into successful adults and involved fathers. Fathers and children also really need access to the books our Little Free Libraries provide and to that wonderful bonding experience that happens through reading together. I am so grateful to each and every person for their support. You've made so much possible for so
many."