November 4, 2019
Littlejohn Keynote Speaker at Kentucky Fatherhood Summit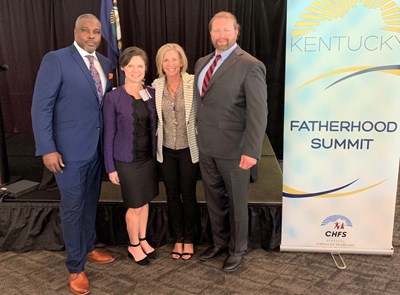 President Pat Littlejohn was invited to be a keynote speaker at the 2019 Kentucky Fatherhood Summit held Friday, September 27th in Lexington, KY. The summit, sponsored by the Kentucky Cabinet of Health and Family Services, presented a collaborative opportunity for social service professionals, legislators, law enforcement agencies, academicians, grassroots non-profits, and faith-based organizations to focus on pathways to influencing the future of fatherhood in Kentucky. The vital role father's play in the healthy development of children and the prevention of childhood poverty were key topics.
Littlejohn opened the morning and shared the Center's approach to successfully building the model for a statewide network of fatherhood programs. Her address emphasized the importance of creating strong local and state partnerships to sustain impactful service delivery.
Breakout sessions examined successful co-parenting, evolving the child support enforcement model, economic empowerment of fathers and the benefits of father engagement for children, families and communities.
Other summit speakers included Senior Project Manager Kenn Harris, National Institute of Children's Health Quality and Wellness Director Twany Beckham, Kentucky State University.
Pictured: (L-R) Director of Lexington Leadership Foundation Fatherhood Initiative David Cozart, Kentucky Cabinet for Health and Family Services Deputy Secretary Kristi Putnam, SCCFF President Pat Littlejohn, Kentucky Cabinet for Health and Family Services Department of Income Services, Commissioner Bryan Hubbard.