August 5, 2022
Letter From The President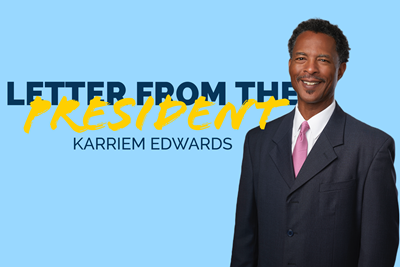 Happy Fathers' Day! 
I am proud to build on the solid foundation that Pat Littlejohn, the team, and our six local organizations have established over the last 20 years.  They have set a high standard for others to follow.
South Carolina ranks 41st among all states in child well-being.  There are 405,000 of our children living in single-parent homes and we know that most are headed by single moms.  Those children don't know what it means to have a Happy Fathers' Day!   
Having lost our dad on my last day of kindergarten, my siblings and I know firsthand the void it left in us and the burden on our mother. 
The Center's work to engage dads in the lives of their children will not only improve the children's well-being, but also improve the community and overall economy.  Please join us in our quest to make every day a Happy Fathers' Day in the lives of South Carolina's sons and daughters.    
Happy Fathers' Day - every day, 
Karriem Edwards  
President