August 31, 2020
Center Launches The Dad Facts Campaign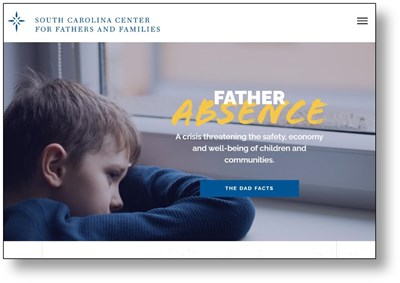 On August 10th, the Center and its six fatherhood organizations across the state officially launched The Dad Facts Campaign. The campaign, which will include billboards, social media, and targeted digital ads focuses on research-based facts about what happens to children's live, their families and communities when dads are not active and engaged.
"When explain our mission and what we do to help dads, the facts about father absence and how that one issue links to most societal ills concerning children and families are the points that stop people and get them thinking," said SCCFF Director of Communications K. Wayne Thornley. "We thought putting those facts front and center would make a powerful campaign and get more people talking about how dads impact our lives."
It was decided early in the development of the campaign that the negative aspects linked to father absence, such as child poverty, substance abuse and teen pregnancy would be best to launch with an and most likely to spark discussion. Messaging will change November to the facts that point out the positive things that occur when dads are present and engaged, including school readiness, self-esteem and economic stability.
In addition to drawing attention to one of our most overlooked resources, the campaign aims to make the subject of fatherhood more top-of-mind, to raise awareness of the Center and it's fatherhood organizations as subject matter experts and "go-to" resources for all things fatherhood, and to broaden the non-profit's base of donors and volunteers.
The campaign will continue through January 2021.