August 4, 2023
Governor Henry McMaster Issues Proclamation on Child Support Awareness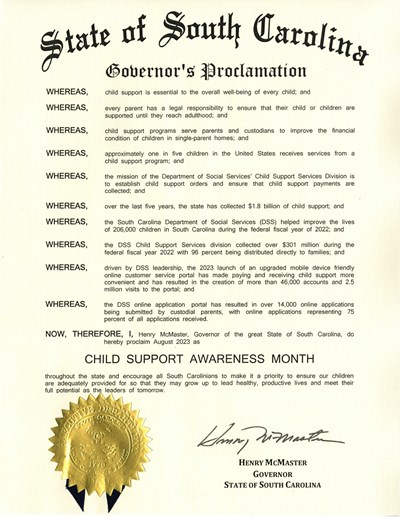 Governor Henry McMaster issued a proclamation this week to declare August as Child Support Awareness Month in South Carolina. This announcement highlights much needed attention on the children of our state and how the work of the Department of Social Services and other advocacy groups is vital to the welfare of families.
"Child support is essential in the overall well-being of a child. Every parent has a legal responsibility to ensure that their child is supported until they reach adulthood," said Michael Leach, DSS State Director. "August is a time to celebrate the tremendous job done by child support programs year-round and improving the financial condition of children in single-parent homes."
According to DSS, "The South Carolina Department of Social Services provided services to 206,000 children during the federal fiscal year 2022. During that period, the child support program collected $301 million with 96% being distributed directly to families. South Carolina's Child Support Program established 5,805 support orders as well as establishing paternity for 20,516 children."
To learn more about the work of DSS among families needing child support, click here.
Additionally, the South Carolina Center for Fathers and Families works with fathers in all 46 counties in coordination with our six regional fatherhood organizations to help more dads get back on track with jobs, relationships with their children, and with child support advocacy.
To learn more about our work with fathers and child support, click here.
OUR MISSION IS TO PROVIDE THE MEANS FOR FATHERS TO BE GREAT DADS.