July 29, 2020
From Law Clerks to Legal Eagles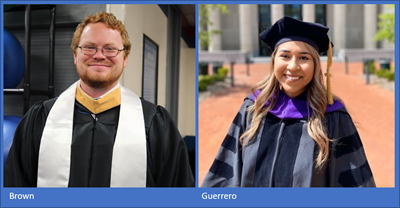 Each year, we are fortunate to get to work with a law clerk from the USC School of Law. These bright and eager minds come with knowledge and skills that we utilized on some substantial projects like legislation and advocacy projects benefiting fathers, developing our Expungement Guide, or doing research on legal resources for young fathers. They quickly become part of our team. We even hear from them from time to time. We recently received exciting news about two of them.
Thomas A. Brown, J.D.
After graduating from law school this year, Thomas was quickly snapped up by SC Department of Social Services in Anderson to work in their Child Protective Services division. In a note to the Center, he said there were a great many applicants, but when he was offered the job he was told what put him ahead of the other applicants was his work on the Birth Certificate legislation and A Father's Guide to the Child Welfare System for the Center. Thomas concluded his note with these words:
"I've always looked back and been very proud of the work I did with the Center and I wanted to let you know I appreciated the opportunities you gave me! Also, if there is anything I can do for all of you, as an attorney or just a friend, please feel free to reach out!"
Clarissa Guerrero, J.D., MSW
Not only did Clarissa get her law degree this year, she also completed a dual degree in social work and was awarded the Singer Connecticut Public Service Fellowship.
The mission of the Singer Connecticut Public Service Fellowship program is to have a long-term impact on access to justice in Connecticut by funding and supporting the placement of talented new lawyers with legal services organizations within the state. Clarissa will help families & children who have experienced trauma obtain legal relief and help build sustainable resilience & trauma-informed practices in the Hartford area.
In a recent statement for the law school newsletter, Clarissa said "Obtaining my JD/MSW dual-degree was key in helping me obtain my Singer Fellowship with Greater Hartford Legal Aid."
During her time with the Center she was instrumental in research for a new curriculum which included legal guidance for young fathers, updating the Expungement Guide, and planning and executing a Continuing Legal Education Program to help lawyers understand the needs of low-income fathers.
Congratulations to Clarissa and Thomas!