November 4, 2019
Father Focus: George Johnson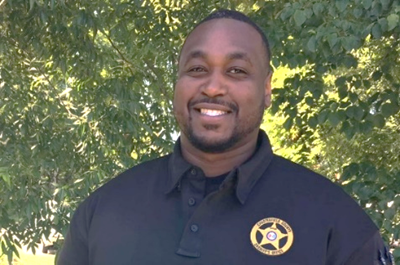 George Johnson is an officer with the Chesterfield County Sheriff's Office and father of three. He was frustrated with struggling to gain visitation to see his daughter who lives 16 hours away in another state. There were communication problems between Johnson and the mother of this child and the expense to make such a long trip regularly limited his opportunities to figure out the steps he needed to take to improve his relationship with her and his family.


While searching for help, Johnson heard about Father365.com. He visited the site, found the office closest to him and called to get connected to the services and support of Man 2 Man Fatherhood Initiative. After talking with staff, he started attending the weekly peer group sessions with other fathers.
The group sessions helped him gain a new perspective, not just on his own situation, but on the lives of other fathers and the experiences they all shared.
"You don't find too many fathers trying to fight for a relationship with their child," Johnson said. In my opinion, being in law enforcement, I've always seen the side where the mom gets help but the father never gets help. To be able to see a group of guys wanting to change, trying to be better about paying child support, I've never seen it. That surprised me a whole lot."
At these sessions, Johnson appreciated the laid-back, welcoming atmosphere and the ability to open up to people struggling with similar issues as himself.
"I don't feel like it's a group therapy session. It's more like a bunch of guys getting together, being able to talk, being able to be real with each other, no matter your race, ethnic background, no matter what it is," Johnson said.
Through Man 2 Man, Johnson has learned to be more patient. He's learned to be a better listener on the job, have sympathy for others regardless of their situation and ultimately look at the bigger picture.
Man 2 Man helped him not only become a better father, but a better police officer and a better man.