August 31, 2020
Father Focus: Friday Lasisi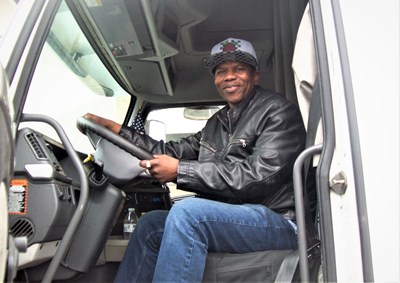 Tim Cureton, Regional Employment Developer at A Father's Way leaned forward, listening intently as Friday Lasisi began explaining his need for fatherhood services, his words embellished by a distinctive Nigerian accent.  
"I come to you today, sir, looking for guidance in reconnecting with my children, building on my parenting and relationship skills, and reconnecting with my children," Lasisi explained to Cureton. This father of three children had come to realize how necessary it is for him to grow alongside his children rather than apart from them. "And, I need help with employment," he said. Lasisi has a dream to become an independent trucker and to invest in his own truck and trailer.
After requirements of the program were discussed, Lasisi began developing his One-Man Plan that would serve as his road map for becoming the employed and nurturing father he wanted to be.
Lasisi started attending weekly peer group sessions. He enrolled in all curriculum courses where he focused on Parenting, Healthy Relationships, and Economic Stability. He also completed the 20-hour Job Readiness Boot Camp to learn as much as he could on his way to becoming self-employed.
Lasisi met curriculum requirements with an enthusiasm and dedication many struggle to achieve. When not at A Father's Way, he was busy working out the details of purchasing a truck and trailer. His determination did not go unnoticed by other fatherhood participants and staff who felt he was going to achieve his goals as a father and a businessman.
Lasisi was close to completing the program when he walked in the front door and asked to see Cureton. He said he had something for him to see. As Cureton approached, Lasisi asked him to step outside.
Idling in the parking lot was a shiny new truck Lasisi had just purchased. It was an impressive site, but more impressive was the smile on Lasisi's face and the look of accomplishment in his eyes.  
Weeks later, in a follow-up call with Lasisi while at work with his rig in another state, he said "I am and will always be grateful for the relationship, commitment, and guidance A Father's Way provided to me during my challenging times."
Lasisi continues to work with the court system to gain custody of his children but feels very positive that they will all be together as a family soon.