July 7, 2021
Center Selected For 2021 Community Thrives Challenge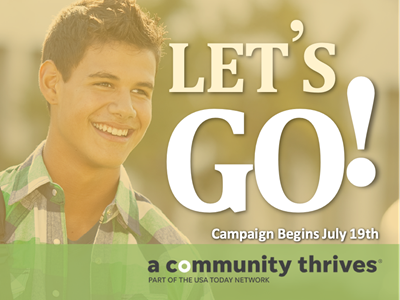 The Center has been selected for a second time to participate in this year's USA Today's Community Thrives Challenge. This crowdfunding challenge awards funding up to $100,000 to nonprofit initiatives focused on building stronger communities across the country. The Center's proposal is to implement Reality Check, a program focused on family strengthening (healthy relationship education, parenting skills, job, and career advancement) and improve outcomes for young men in the Midlands. high schools, and colleges in the Midlands of SC. The nine-week evidence-informed curriculum was created by the Center to develop the program for young men and will be conducted at area high schools and colleges.
Proposed funding for Reality Check includes participant recruitment and a marketing campaign to increase public awareness of the impact of father absence on children, families, and communities.
Our crowdfunding campaign for an opportunity to be awarded the grand prize donation will kick off on July 19, 2021. All donations must be made online on the Center's fundraising challenge page on MightyCause.com. We look forward to seeing you donate.
The Community Thrives organization will be reviewing the merits of each proposed project and grant awards are expected to be announced before the end of the year.