January 22, 2021
Bolton Named New Chairman of the Board of Trustees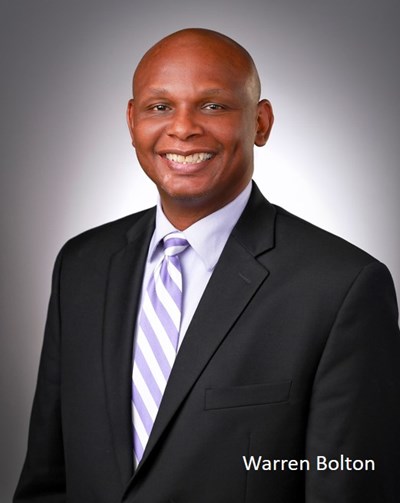 The South Carolina Center for Fathers and Families (SCCFF), a ministry of the Sisters of Charity Health System, is pleased to announce the appointment of Warren Bolton as Chairman of the Board of Trustees. Bolton has served as a member of the board since June 2015. He succeeds Tim Arnold, President & CEO, Colonial Life, who was appointed to the role in 2012. 
Mr. Bolton is pastor of Mt. Zion Baptist Church in Camden, a communications liaison at the S.C. Department of Health and Environmental Control and vice president of Bolton Counseling & Consulting, LLC. He spent nearly 30 years as a journalist, starting as a reporter in 1986 with the Columbia Record before moving to The State in 1988. In May 1997, he joined The State's editorial board, becoming its first African American member and in January 2000, he was promoted to associate editor, another first for an African American. In 2011, Bolton published his first book, God Is Grace: Lessons to a Father from a Son. In 2018, he and his sons, Alexander and Christopher, co-published the children's book, I Want a Pet: P-E-T.
"I am both humbled and honored to have the opportunity to chair this amazing body committed to the work of strengthening fathers and families," Bolton said. Helping fathers reclaim their lives and improve the lives of their children is not only a good work, it's a God-guided work."
"It is an honor to announce Warren Bolton as our new Board Chairman. For the past six years, our organization has benefitted from his knowledge and experience as a faith leader, a respected journalist, an author, and a compassionate supporter of our work to improve the lives of fathers and families in our state," said SCCFF President Pat Littlejohn. We look forward to his leadership as chairman and the guidance of our entire board as we continue to expand our partnerships, programs, and services for fathers in our state.
Newly-elected board officers are:
Vice Chair – Kaela Bailey, Strategic Communications Manager, HDR
Treasurer – Timothy (TJ) Clayton, Jr., AVP, Legal & General America
Secretary – Dr. Walt Tobin, President & CEO, Orangeburg-Calhoun Technical College