October 30, 2019
2nd Annual Reel Connection Makes Splash for Fatherhood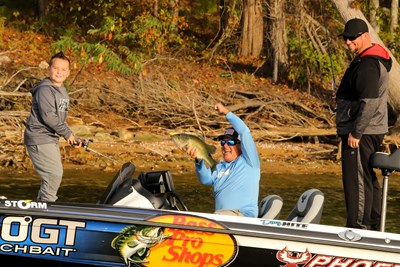 In early October, Bassmaster Davy Hite left the boat ramp at Dreher Island State Park with this year's father and son fishing team Nic Via and son Angelo who entered the 2019 Reel Connection Campaign in June. Their names were randomly selected from all who entered, and they were contacted with the good news on Father's Day.
For the second year, BASS Hall of Famer and Board of South Carolina Center for Fathers and Families Trustees Member Hite helped bring awareness to our mission and the importance of quality time between dads and their children.
Quality time spent between a father and a child is invaluable. Even simple activities – like a day of fishing – can create memorable moments that shape a child's future. Our fatherhood programs help fathers build rewarding relationships with their children. When fathers are present, children thrive, families grow strong and communities prosper.
The Reel Connection Campaign is held annually and kicks of the weekend after Mother's Day.
Congrats to Nic and Angelo, the lucky guys who got to spend a day on Lake Murray catching some lunkers and talking all things fatherhood.